5 reasons to support secondary suites in Calgary
1. Vacancy rates are low
Take a look at vacancy rates for Calgary in 2012. It's the lowest among the 15 largest urban areas, yet Calgary has yet to find additional solutions to the problem (and the flood did not help either).
The apartment vacancy rates reported by the Calgary Mortgage and Housing Corporation fluctuate more with an increase or decrease in job activity, economic activity, and migrant movement into the city. While approving new subdivisions could alleviate the shortage, why not capitalize on already existing homes that could support secondary suites.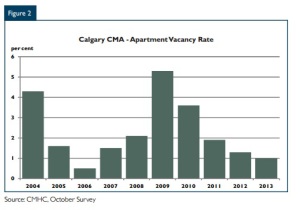 Sources:
http://www4.hrsdc.gc.ca/.3ndic.1t.4r@-eng.jsp?iid=43
http://www.cmhc-schl.gc.ca/odpub/esub/64371/64371_2013_A01.pdf
2. You don't get to choose your neighbor
One of the most compelling reasons I've read for secondary suites can be found here by Brent Mielke in one of his posts on the Better Calgary Campaign blog:
Why are we so afraid of who could move next door when we could better concentrate our efforts on who can we expect to greet and meet as our new neighbor?
3. Nobody supports them. Well says who?
Welcome to 2014! Opinions and mindsets have changed, and support is growing for secondary suites. A recent Calgary Herald article talks that attitudes are changing, and the support among various community groups, business groups, and student groups have all come out strongly in favor of secondary suites. Even a long time councilor has signaled her change of heart when it comes to secondary suites.
Groups that have publicly stated that they support secondary suites include:
4. Other cities are doing it, and so far so good.
Other cities have long recognized and legalized secondary suites to some extent. Our Edmonton neighbor decided to legalize secondary suites and hold your breath, none of the deeply held fears came true. No real parking issues, no overcrowding, and according to senior planner Daryl Kreuzer at the City of Edmonton, there have been no negative impacts on the city. Take a look at some of the major cities that have made secondary suites legal:
Although a bit dated, here's a table from a City of Calgary brochure outlining what other cities are doing for secondary suites as well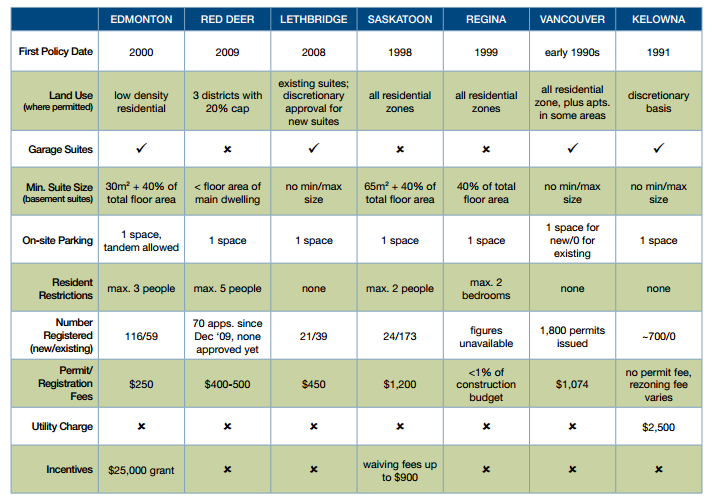 Sources:
http://www.calgary.ca/_layouts/cocis/DirectDownload.aspx?target=http%3a%2f%2fwww.calgary.ca%2fCS%2fOLSH%2fDocuments%2fAffordable-housing%2fEnterprise-Housing-Program%2fSecondary-suites%2finfosheet1_whats_happening_elsewhere.pdf&noredirect=1&sf=1
5. Secondary suites make sense. And dollars
What's not to like about the following added benefits for secondary suites:
Sources:
https://www.cmhc-schl.gc.ca/en/inpr/afhoce/afhoce/afhostcast/afhoid/pore/pesesu/pesesu_002.cfm
http://livecentral.ca/2013/01/increase-your-rental-income-by-30-to-40-secondary-suites-in-calgary/
Articles to Consider
Websites to Consider: